Hi, I am Mary Gunn and I have always loved paper arts, teaching, popcorn, and fun. I launched MaryGunnFunn.com in 2003 before blogging was the norm. I have always loved to create and share with others, and the internet has allowed me to connect with funn people all over the world.
My History with Paper Arts & Crafts
When I was young my Papa saved the last sheet of his cigarette tissues for me, which was pink, so I could craft with them. I was probably the only one that was sad he quit smoking.
I remember seeing my first Magic Markers display – so many colors. It was opposite the cash register at a school supply store. I got a purple and a blue one with dreams of having them all.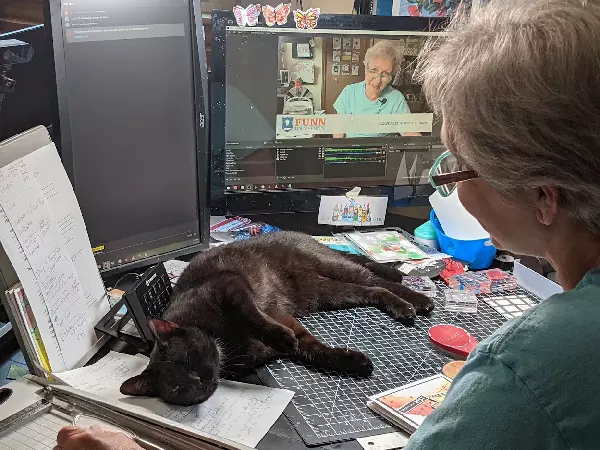 When I asked my mom what the huge colorful boxes of Kotex were, she told 5 or 7-year-old me they were paper products, I almost died with excitement and anticipation of getting my own box of Kotex full of paper products – youthful ignorance is bliss.
Fast forward a few years and I started as a direct sales consultant for Close To My Heart in January of 2000. I had been crafting, teaching, and finding myself in leadership positions my whole adult life and being a consultant gave me the opportunity to use those talents.
I became the 'Scrapbook Lady' to hundreds of Kansas City residents through the many workshops, classes, and clubs I hosted. I found I had an obsession for helping others discover the joys of creating and having their own moment when they hold a craft out in front of them, and say, "Ah, I made that!"
My History with Teaching
When my neighborhood buddies and I played, we often played school, and guess who was the teacher? You got it, lil' ol' me. When I was at University, guess what my favorite part was? Having 5 students to help in child development.
When I grew up, our kids stayed home for school. Guess who was their teacher? Yup, you are seeing the trend, aren't you? When I retired guess what I started doing? Once again, you got it right – I was teaching – this time I was tutoring!
It was only natural that I applied the same passion for teaching in my daily craft life.
I have always been a HAM
LONG before the internet made it possible for nearly anyone to record a show, I pretended to do cooking shows. There was my 11-year-self walking my "audience" through how to make popcorn or marble cake from a mix. That was until I pre-heated the oven with my Mom's electric skillet in there. Melting the cord rather changed the entire experience.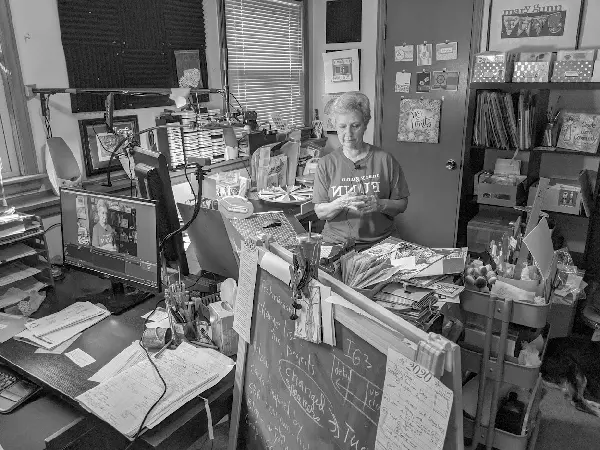 In 2011 I tried doing my first live streamed classes over the internet. It was hard because the live streaming technology we all enjoy today didn't exist yet. I had to put that idea on the back burner until I could figure out the right way to do it.
Fast forward 8 years: On a whim, my son Stephen decided to hook up a $20 camera in my craft room to see what happened. Within a week, I started teaching classes live on Facebook. I had been building my online community for years and had viewers from the very first live stream.
We knew that we were onto something, so we started experimenting with the setup and upgrading equipment. FunnUniversity.com was soon registered.
Going Out On My Own
I resigned my position at Close To My Heart in March 2020 to pursue teaching paper arts with no strings attached. In a world where everyone is trying to sell something, I wanted to offer ideas instead of product.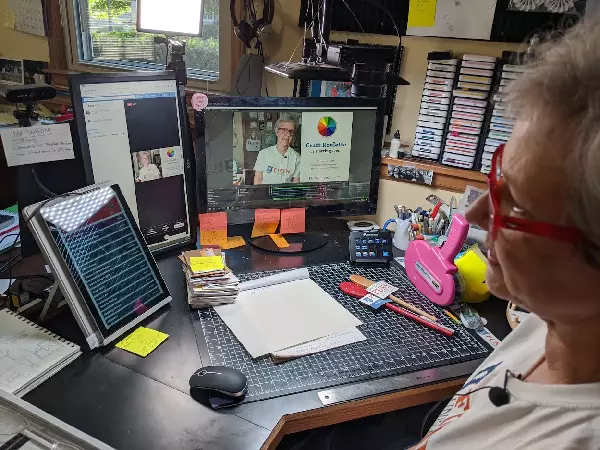 I partnered with my son Stephen to build my studio and my websites. Our goal is to provide a new kind of service that focuses on inspiring creativity, building confidence, and having funn.
If you like what I do, please check out FUNNUniversity.com where I teach structured classes covering scrapbooking, card making, crops, and misc arts and crafts!