Join us for the SWEETEST New Pajama FUNN Party – Sugar Rush!*
When you order your Close To My Heart Sugar Rush Workshop Your Way
from me (FUNN.closetomyheart.com)…
you will receive all the instructions (and some additional pieces) to make these
FIVE 2=page 12″x12″ layouts!
Of course, I am here, too, if you have questions or need a little help.
Math speaks here, too, this is VALUE!
SHOPPING

LIST:


Sugar Rush Workshop Your Way Scrapbooking Kitt (G1118, 26.95)
Close To My Heart products – excellent quality



Memory Ideas (past and planned):




Ice Cream & Donuts

:
home made; grocery aisle; decisions, decisions; family favorites; or baby's first
Birthday:
young or old a birthday celebration makes you realize how special you are – celebrate!


Sweet moments

of family life
or collect sweet moments each child does & record them!


Hugs and Kisses

!
What is more sweet than a hug and a kiss!?!
For more ideas, watch for the Sugar Rush FUNN mail (including card ideas)!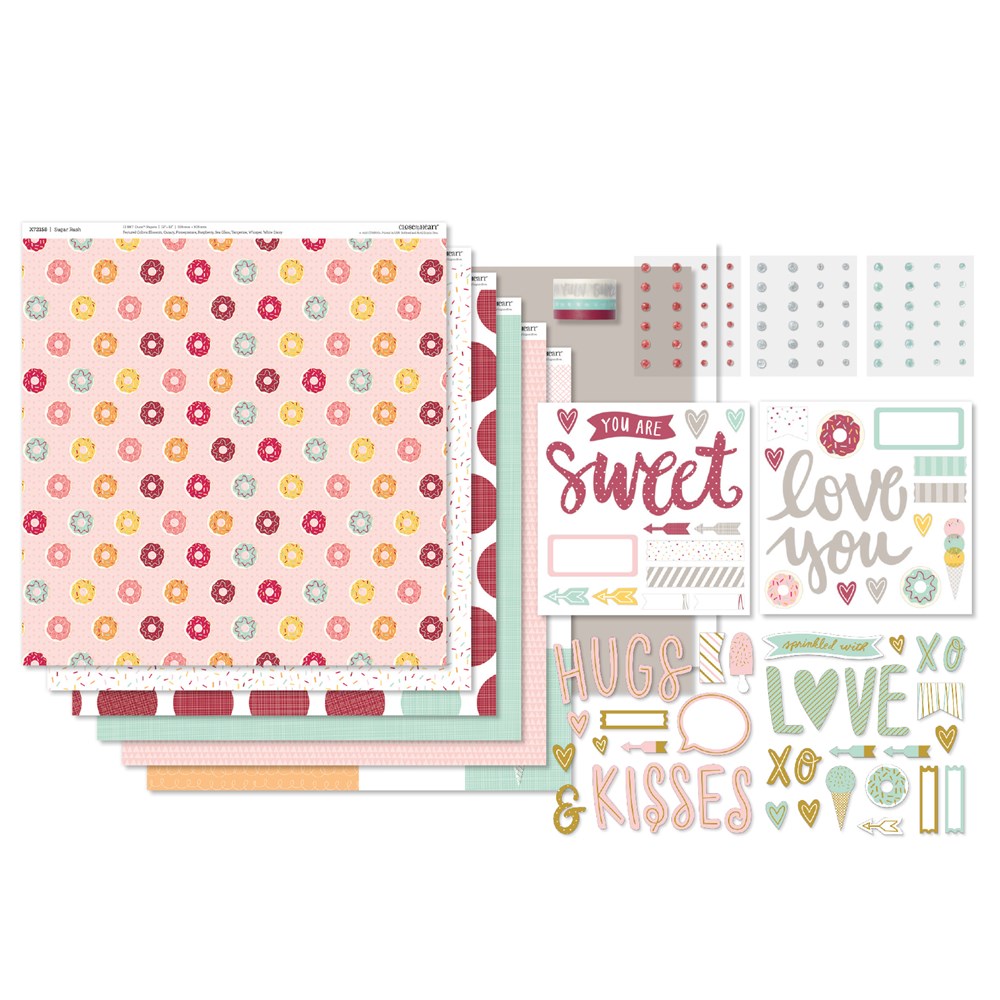 You will Also Need:


White Daisy Card Stock, Kraft (or Desert Sand) Card Stock,
Paper Adhesive (such as a double-sided tape runner), and a 12″ paper trimmer
SHOP YOUR STASH for This PJ FUNN Party:


Hello Gorgeous Picture My Life Cards, the cute heart border stamp in "Way to Go", Enchantment Ribbon pack, Silver Glitter Paper, or embellies from the last four beautiful PJ FUNN Parties!
***********************
When ordering, be sure to get a couple of these
Welcome Home Wreath kits!
SO FUNN and easy!
**********************
JOIN US for the


7th Annual National Mary Gunn FUNN Day
Operation Smile FUNNd Raiser!
Get the details HERE!
Or Watch for your National Mary Gunn FUNN Day FUNN mail.
Did you know there an Operation Smile Stamp Set
by Close To My Heart?
Yes! And $7.00 is donated to Operation Smile with each purchase!
See "True Love" HERE.

Then I saw this simple sketch on Freshly Made Sketches, and thought,
"Aha!! I have an idea for this with the CTMH Stamp of the Month!!"


Stamp of the month comes to the rescue again!
Be sure to check MUNNday for a Stamp of the Month FUNN day post!
Welcome Color My Heart Dare peeps, too!
***************************
Can't Join Us for the National Mary Gunn FUNN Day?

 Donate to Operation Smile
through FUNN.closetomyheart.com
and you will be entered to winn this pretty mini-album!
************************
Stamp of the Month MUNNday FUNNday!
Can't letter your way out of a wet paper bag? No worries! Stamp it!
Then go over the stamped image in Slate Gray ink and a small paint brush!
You will look brilliant!
Have a FUNNday MUNNday!
XOXO,
mary
The marygunnFUNN Pajama FUNN Parties are designed to help busy women with successful scrapbooking. Each month (since September 2010), busy women have been ordering and re-creating at least 3 – 5  two-page 12″ layouts with their own products! Each month, they get:
emailed cutting guides
how-to tips
photo ideas
additional supporting supplies (stamped images, Cricut shapes)
hand-holding, atta-girl cheerleading and teaching from me!


Who are these busy women?


professionals, grammies, aunties, mommies, and basically the coolest women you will ever meet.
UNSURE? email me and I can answer those questions.
P.S. If you love seeing these little pieces I make, please follow me on my fb page and instagram! I post all over the internet! How else are you going to know how to decorate for your Chiefs game?