Ready to scrapbook some FUNN moments and memories?
Need help?
I can do that!
If you are tired of just not getting your scrapbooking done (or have you even started?), let me help with
a system we call …
The Pajama FUNN Party!
This proven system of simple affordable buying, cutting, assembling, completing, and enjoying
your memories has just gotten better and better over the past seven years!
FUNN birthday or celebration (eating cupcakes is a celebration, right?) layout
What would you do to fill this page with memories?
What is your idea of a Happy Day?
Hello, friend! Know that moment when you see a face you love?
Here is a place to spell out all the love and feelings.
Not feeling all heart spill? Then get some goofy glasses, make some duck faces, and have FUNN!
Gotta love #happyday ! Are hashtags part of your world?
Have you ever thought about how technology has influenced your voice?
Or maybe you just have some low-tech moments like I had today when my cat snuggled me on the deck.
Cards Your Thang?
Some Kinda Wonderful makes into some cutie cute cute cute cards, like this!
Hop over the H2H Challenge Blog to see what is wonderful over there!
Check out my fb page tonight and often to see what is Wonderful over there, too!
This is a new feature to the Pajama FUNN Party – it is our Art Bullet Journal page.
Designed to recap the highlights of the month in our family and a iconoclastic photo of the same.
It is actually a pretty cool deal and the project is evolving!
This is this Seasonal Expressions One last month!
Which also means, you need to snap to it and get your orders in, because next month, you won't be able to order these supplies!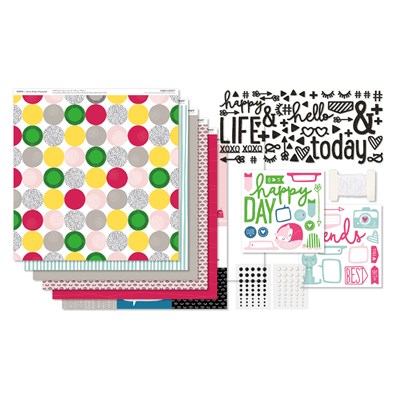 SHOPPING LIST:
Some Kinda Wonderful Workshop Your Way G1120, $26.95)
Pretty simple, right?
You will also need:
White Daisy Card Stock for bases and extra matting / journaling
Paper Adhesive, Glue Dots or Liquid Glue, 12″ paper trimmer, and Glacier Card stock (if you want the blue mats).
You will receive:
Supporting papers and stamped images
Cutting Guides
Layout and scrapbooking Tipps
Online tutoring time, if requested
ALL EXCLUSIVE to my customers.
Order at FUNN.closetomyheart.com  
be sure to check the Clearance page!
CTMH Albums are great, too, pick one up to house your newly save memories!

Contact me with questions.
Order first and I'll contact you!!
And if cards are your thing – we gotcha covered with
Some Kinda Wonderful!
If you have a couple minutes,
click over the Heart2Heart Challenge blog for some more
Some Kinda Wonderful ideas!
Have a some kinda wonderful day and please let me hear from you! I love talkin' scrapbooking!
XOXO,
mary