Had a moment.
Had an idea based on Julee Tilman's design on Mojo Monday.
More importantly, I had a tiny space open on my desk to create!
So I got a little something made!
Used the Close To My Heart Stamp of the Month (Flock Together,
Colored with Sea Glass, Cashmere, and Smoothie inks.
Black is Archival Black and makes a strong beautiful image!
FUNN stash touch is the Sea Foam (wonder when that color was retired) Organdy ribbon.
Clear Shimmer Pen gets the nod for the heart shimmer.
The focal point image is popped on foam tape.
All current products are from CTMH and are available on HERE.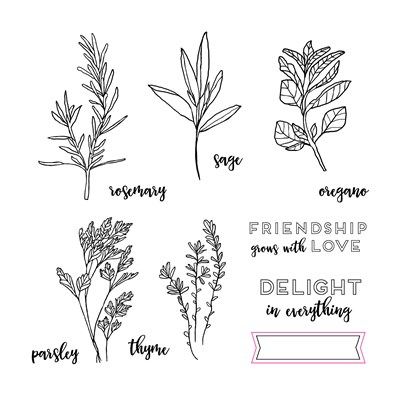 Really love the herbs on this stamp set called Good Thymes! (D1717, $17.95)
and used it for the background stamping. If I made it again, I might try a more tone-on-tone, but with bold black and white Washi border (no longer available), I guess it works.
That's all I have for today!
All the best to you and yours.
Thank you for being a FUNN friend and have a FUNN day.
XOXO,
mary