Welcome to the March Dreamin' Big Pajama FUNN Party!
Happy FUNNday MUNNday!
I've created a five-layout cutting guide, plus FUNN Tipps, and a single art journaling page for you!
All you need to do is purchase the following Workshop Your Way from me (or be on our team):
Workshop Your Way Dreamin' Big (G1121, $26.95)
You will also want extra White Daisy cardstock for layout bases and mats.
New scrapbookers? You will want a good 12″x12″ trimmer and reliable safe paper to paper adhesive.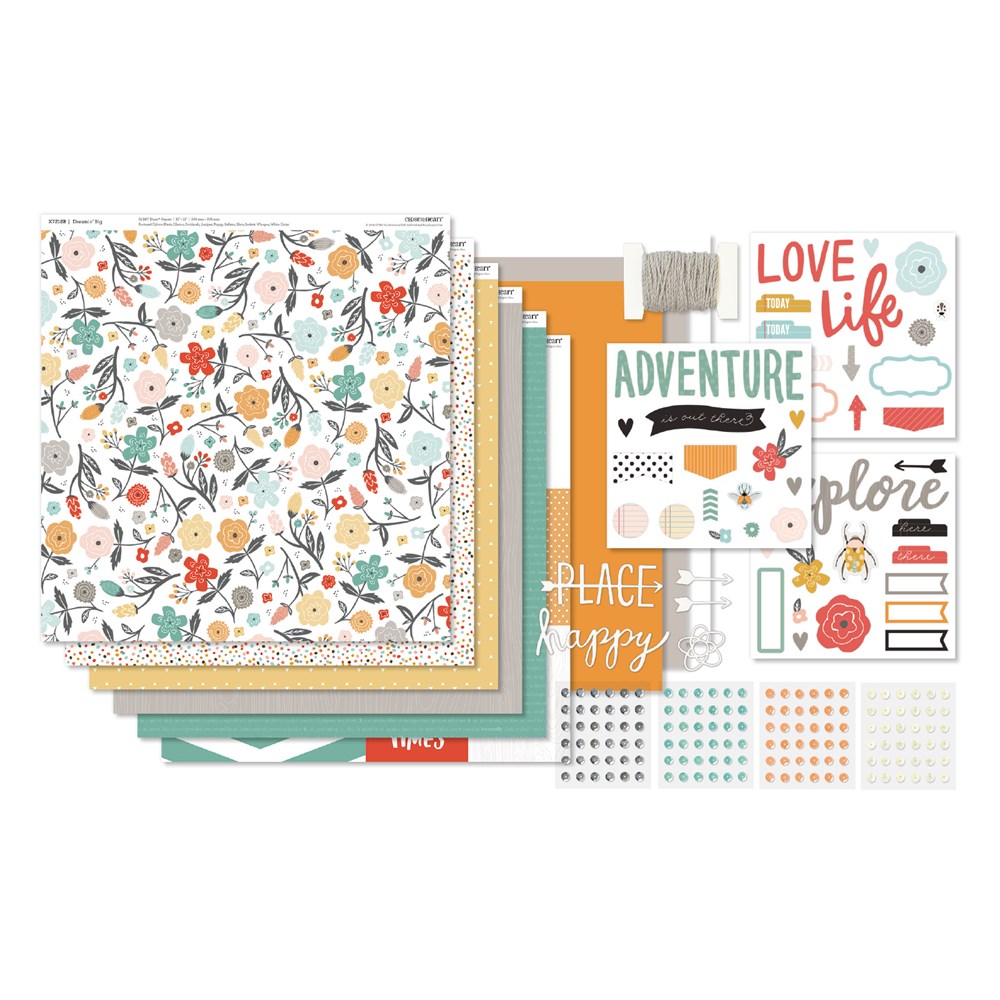 This is what you'll get – all that cool stuff – and cutting guides, supporting pieces (not in the WYW), how-to tipps, and me available for questions.
CAVEAT: I shot these photos right at sun down and the blues look bright and weird! For a more true representation, look at the green blue (JUNIPER here)


See what I mean?
Be watching my fb page for more photos through out the month. While you may purchase these supplies until the end of April, the Pajama FUNN Party offers run until the 15th of the next month.
I don't want to post any more photos until I have better light.
I was watching and rootin' for KU, truth be told, and they won!
*******************************
Julee Tilman, at MOJO MONDAY, has a simple and stellar sketch this week. Can you believe how simple it is, but how pretty!?
Doubled up the challenge with the Heart 2 Heart blog challenge which happens to be backgrounds! Ta-da!
Be sure to take notice of this one, FUNN friends. You can use it for so many cute idea.
And here is my Stamp of the Month MUNNday FUNNday interpretation.
I love this stamp set! I had FUNN stamping the back ground in Saddle ink on Kraft Paper.
For more samples of what I've made, here you go!

FUNNday MUNNday Flipping Card – so cool – please check it out!

"The Best Part of Being Cold…" (by me!)
***********************
In other CTMH news….
Thin Cuts (Die Cuts) are a very cool 25% off this month! WOW!
Check it out here and "roll that beautiful Thin Cut footage".
Another cool deal for New Consultants get this stamp set and coordinating die set FREE this month! Really cute!
   
We'd just love to have you be a part of our FUNN!
Have a FUNNday MUNNday!




I'm on Spring Break so I KNOW I will have a very FUNNday MUNNday!
See you soon, XOXO,
mary