Join us as we create these four user friendly layouts!
These are created with the way-too-busy woman!
Easy to cut. Easy to assemble. Easy to add photos.
Welcome H2H Challenge Blog Friends!
Love Florence papers? CLICK HERE for more H2H ideas.
 Easy to Order!
Supplies delivered to your home!
(You will also need Colonial White Card Stock, Kraft Card Stock, Scissors, and adhesives)
Choosing only the best products – Close To My Heart – to trust with our memories!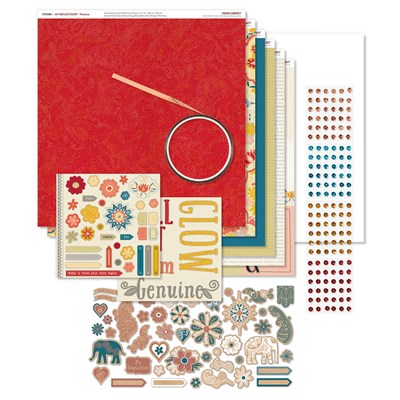 And you will get all the scoop for these four layouts!
Mats are not included;
they are placed to show photo placement possibilities.
Try it, You'll LOVE IT!
Offer is good through this CTMH Consultant
for customers & downline team members.
NOW THROUGH JULY 31st!
FUNN friends, be watching your FUNN mail for ideas for use!
This is also a great month to sign up for our very
FUNN Positive IMPression Team!
Read more & Sign Up Here!
LOOOOOOOOOOOOOOOOK AT THIS GREAT OFFER!
We'd just be thrilled to call you a Team Member – give us a try! :o)
*****************
It's Going to Happen Tomorrow – It's Going to be MUNNday!
So let's make it a Super FUNNday MUNNday!
When I was designing the Florence Pajama FUNN Party, I purposefully left this type set paper out so I could use it for cards and for small pieces on other layouts.  And don't you think it IS FUNN on a card?

Close To My Heart Stamp of the Month, From the Notebook.
You can get it at retail OR for only $5. with qualifying purchase.
Did you see last week's CTMH Stamp of the Month MUNNday FUNNday card?

This card was using last month's PJ FUNN Party paper – Magical.
So, SUPER SWEET FRIEND,
have a MUNNday FUNNday and we'll see you later this week.
mary