December Stamp of the Month
had me at the get-go.
How 'bout you?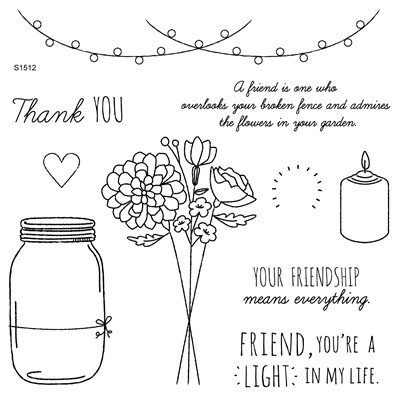 CARD TRICKS
JAR-JAR Now Vase
Something kinda FUNN was cutting the lid off the jar –
oh, yeah, you knew something was weird.
The "back" lip of the once-jar-jar*-now fancy vase was drawn with my journaling pen.
JAR-JAR Detailing
You can't see it too well, but I brushed the container with
Liquid Glass, just a little touch to make it more FUNN.
And yes, you who are detail-oriented, I cut around the vase ties.
POPPin' Posies
Couple of tricks for poppin' those posies are
outline in ShinHan Gray Markers and foam tape for the large mum flower.
Gaining Weight
Added a little strip of Red Shimmer Trim to anchor the image by adding visual weight, too.
So I am thinking a lot of about cookies right now.
Hey, the jar could so be a gift tag for home made foodie gifts!
LIKE adding this cute tag with a supply of Martha Stewart's 3-ingredient Hot Chocolate Mix
(after all December 13th is National Celebrate Cocoa Day)!
Art Philosophy tag, December SOM, Zoe WOTG XOXO, scraps from my table
SOURCE: Martha Stewart
INGREDIENTS
3 1/2 cups sugar
2 1/4 cups cocoa
1 tablespoon table salt
Whole milk for serving
DIRECTIONS
In a large

bowl

, combine sugar, cocoa, and salt, and whisk to combine well. Store the mixture in an airtight container.

For individual servings, pour 1 cup whole milk into a microwave-safe mug, and microwave on high just until hot. Add 2 tablespoons of cocoa mix, and stir to dissolve. For a larger batch of cocoa, warm the milk in a saucepan set over medium-low heat, taking care not to let the milk boil; as it warms, stir in 2 tablespoons of mix for each cup of milk.
me – I haven't dabbled with substituting Stevia for the sugar, but if you do and come up with the right measurement – holler, ok?
Have a MUNNday and SUNNday FUNNday!
mary
p.s. I have a lot of FUNN up my sleeve in give-aways, 2016 announcements, and pictures of my cat – it is the internet.
*JarJar – no one likes him, but The Force is Awakening this week, so hat tip to the Star War fanns.